Hurricane Harvey – the Aftermath
Fr. Bill Bueche, C.Ss.R., Pastor of Holy Ghost Catholic Church, Houston
A very warm thank you once again to all who contributed to the Hurricane Harvey Relief Fund. Your donations and prayers were indispensable in the work that Holy Ghost Church parishioners carried out from the first day the disaster hit Houston. Those efforts continue, as parishioners and other locals continue to put their homes and their lives back together. A particular thank you to Fr. José Chavez and Dr. LuzDalia Sanchez, his assistant, who managed the relief efforts and the Harvey Relief Fund so capably and with such great dedication. Of course, those who helped have the undying gratitude of the many families who suffered great loss and were helped by your generosity.
Briefly, this is what has been accomplished since August 28, 2017:
During the month of September, efforts focused on distributing emergency relief directly to affected families. An enormous amount of donations were dropped off at the parish: primarily food, water, clothing, and baby formula and diapers. We became an important distribution center in our area, receiving and then packing literally tons of supplies to be distributed to those in dire need. Our teams of more than 100 volunteers delivered these by the truckload to neighborhood apartment complexes, trailer parks and individual homes.
I am still awed by the generosity of the donors (primarily individual families and businesses) who delivered the items directly to us almost faster than we could unpack and temporarily store them. The school gym was completely filled and then emptied, over and over.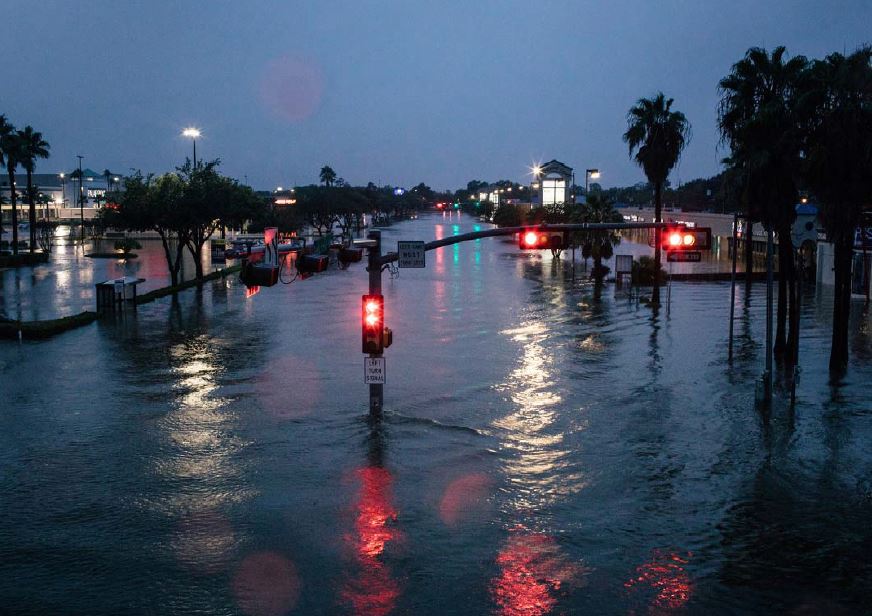 Efforts changed direction in October, when we began to identify and gather information about which families had suffered great damage to their homes. At the same time, we recruited and organized teams of parishioners with home renovation skills. These teams visited the families to evaluate their needs and plan the cleanup, restoration and reconstruction of their homes. Most of the families we helped lost the entire first floor of their homes – walls, floors,       appliances and furniture – to the flood waters. Most of the contributions have been spent toward the costs of: construction materials; reconstruction; and major appliances. In short, we have been helping families put their lives back together after this very traumatic event.
Home restoration and rebuilding has been a slow process. Some families are nearly ready to move back into their homes, but much work remains on the homes of many families. We have distributed all of the donations received in the Hurricane Harvey Relief Fund – over $104,000 from Redemptorists and friends from throughout the United States and Canada. These contributions were truly a great gift of God for the scores of families who desperately needed and received your help. A special thank you to the Jim Schoettler family of Golden, CO, who purchased the Denver Provincial residence earlier this year. The Schoettlers generously donated and shipped all of the furniture remaining in the residence directly to Holy Ghost Parish, where it was stored and available to those affected by Hurricane Harvey. Thanks is also due to the leadership of the Denver Province, who directed donations our way and actively supported all of our efforts.
Above all, I want to convey the gratitude of all the families who received help. They all expressed their profound gratitude to us, but these families want to say "thank you" to you for reaching out to them in their time of need. I assure you of their prayers, as well as the prayers of the entire Holy Ghost Parish community.