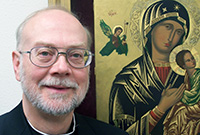 Though it's a very busy time for me, I look forward to the Christmas season; in large part because I enjoy hearing Christmas Carols. One of my favorites is a simple melody my grandmother used to hum. She didn't know the words. She learned the melody from her mother who emigrated from the Tyrol before World War 1. When I entered the Redemptorist seminary at 14 I finally learned its name and where it came from.
Tu scendi dalle stelle (You came down from the stars, O King of Heaven), written by St. Alphonsus Liguori, founder of the Redemptorists, proclaims the closeness of God to people. The Son of God left everything behind to be with us, to share our reality, living among us as one of us. Jesus was the first and truest "missionary," going out to a fallen and lost world, to live among those wounded by life, to allow himself to be wounded for our redemption out of love for us. The carol ends with a prayer to the Mother of Jesus, asking her to pray for us so that we might know how to love Jesus in return. I think Alphonsus took for granted that the hearers of the carol would understand. The way we love Jesus is to do for each other what he does for us.
The Redemptorist theme set for these six years is that we are called by God to be "Witnesses of the Redeemer: In Solidarity for Mission to a Wounded World." In the model of that first missionary who came down from the stars, we strive in our ministry to be people through whom the Redeemer continues to come and share his life with the wounded and abandoned, those who feel alone or rejected by God and people, so desperately in need of his presence, his healing, his comfort, his love.
I invite you to sing with me the Carol of St. Alphonsus this Christmas. And please help us by your prayers and other means as we seek to live its meaning. Together may our witness of life be for the wounded, abandoned and poor the answer to their prayer and the fulfillment of Christ's name Emmanuel: "God is with you!"
In Jesus and Mary,
Very Rev. Stephen T. Rehrauer, C.Ss.R.
Provincial Superior