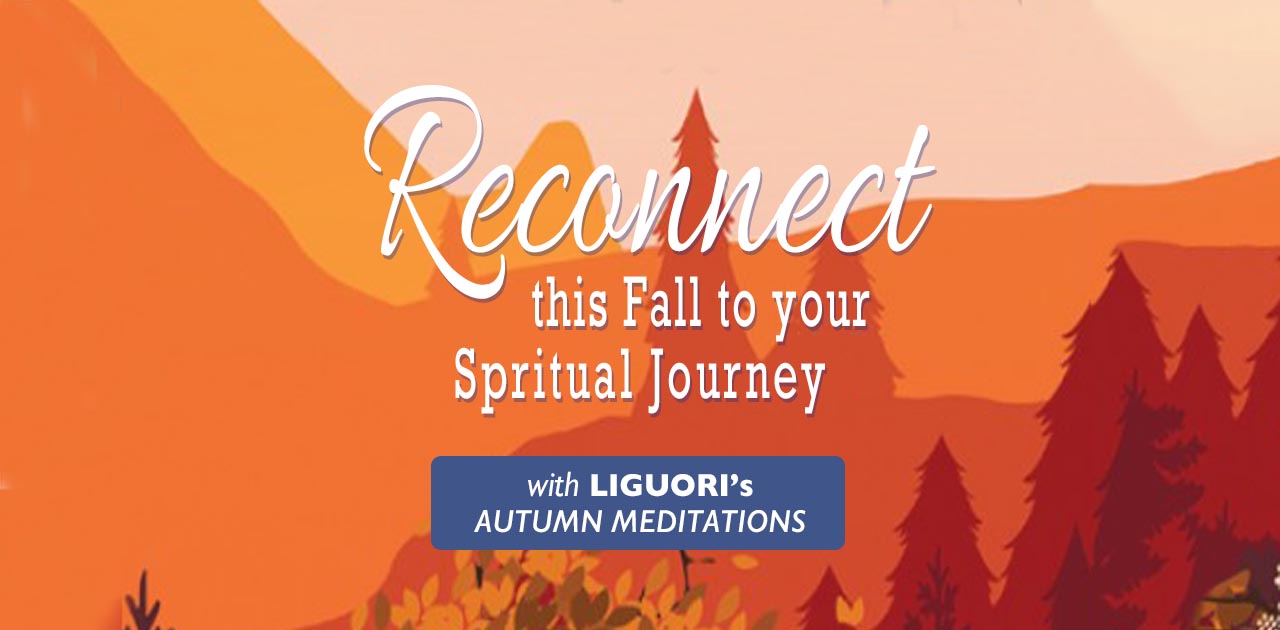 A
utumn is the time to move inward. As the leaves fall from the trees, the days shorten and the temperatures fall, we witness again the mystery of the seasons. Autumn is also traditionally a time for inner spiritual renewal. It is a time to pay close attention to the movement of the spirit while discerning anew God's call to us.
Fr. John Bartunek, LC, SThD, has written this wonderful series of meditations, both to reconnect us to the beauty of the fall season, and to renew our deeper spiritual essence. Fr. John explains: "…meditation means giving yourself the time and space, both physically and psychologically, to reflect calmly and deeply on important spiritual values. It is my sincere hope that by doing so you will experience a spiritual and emotional revitalization."
Liguori offers this book to you now as we prepare to begin anew the Church's liturgical season.
Autumn Meditations is the third in a series of four seasonal meditations books. It explores religious topics in the context of modern-day life. The twelve reflections in this book follow the rhythms of the autumn season, helping you rediscover the beauty of a balanced, God-centered life. We hope you will explore Autumn Meditations as well as other Fall offerings by visiting the Redemptorists' Liguori website.
The Redemptorists are also widely known for Liguorian magazine, begun in 1911 by a group of Redemptorist seminarians in Wisconsin. Since its founding, the Liguorian has been a cherished companion of Catholics. Reinforcing spiritual beliefs with inspiration and insight, Liguorian provides a fresh perspective on faith to give subscribers what they want most from a Catholic magazine: inspiring stories, thought-provoking columns, and indispensable insights into spiritual life for today's fast-paced world.
Liguori Publications is a nonprofit company owned by the Redemptorists of the Denver Province, employing laypeople and Redemptorist priests and brothers. Liguori Publications has thousands of titles, hundreds of which are available as ebooks. Many of our publications are award winners.
The Redemptorists are committed to helping people learn about the Church, and we like to help parishes solve problems.
Catholic publishing houses such as Liguori are a powerful means of evangelization. They are also a source of inspiration and joy on our spiritual journey.
Browse These Additional Fall Books & Categories

Fall is the time to start Bible Study classes! The Liguori Catholic Bible Study is a series of 21 books introducing each and every book of the Bible. Complete with opening prayers and discussion questions for each week's readings. Also available in Spanish.

These faith formation books provide great reading for those in high school and college. In addition, check out our monthly Catholic Update newsletter. It explores Catholic teaching and tradition on contemporary topics. Written in easy to understand language, it has long been a favorite of teens.

Kids will love to follow Pope Francis on his journey from Argentina to Rome! This whimsical, full-color picture book shows children what Pope Francis was like as a child, a student, and a young adult, including his interests in science and soccer.