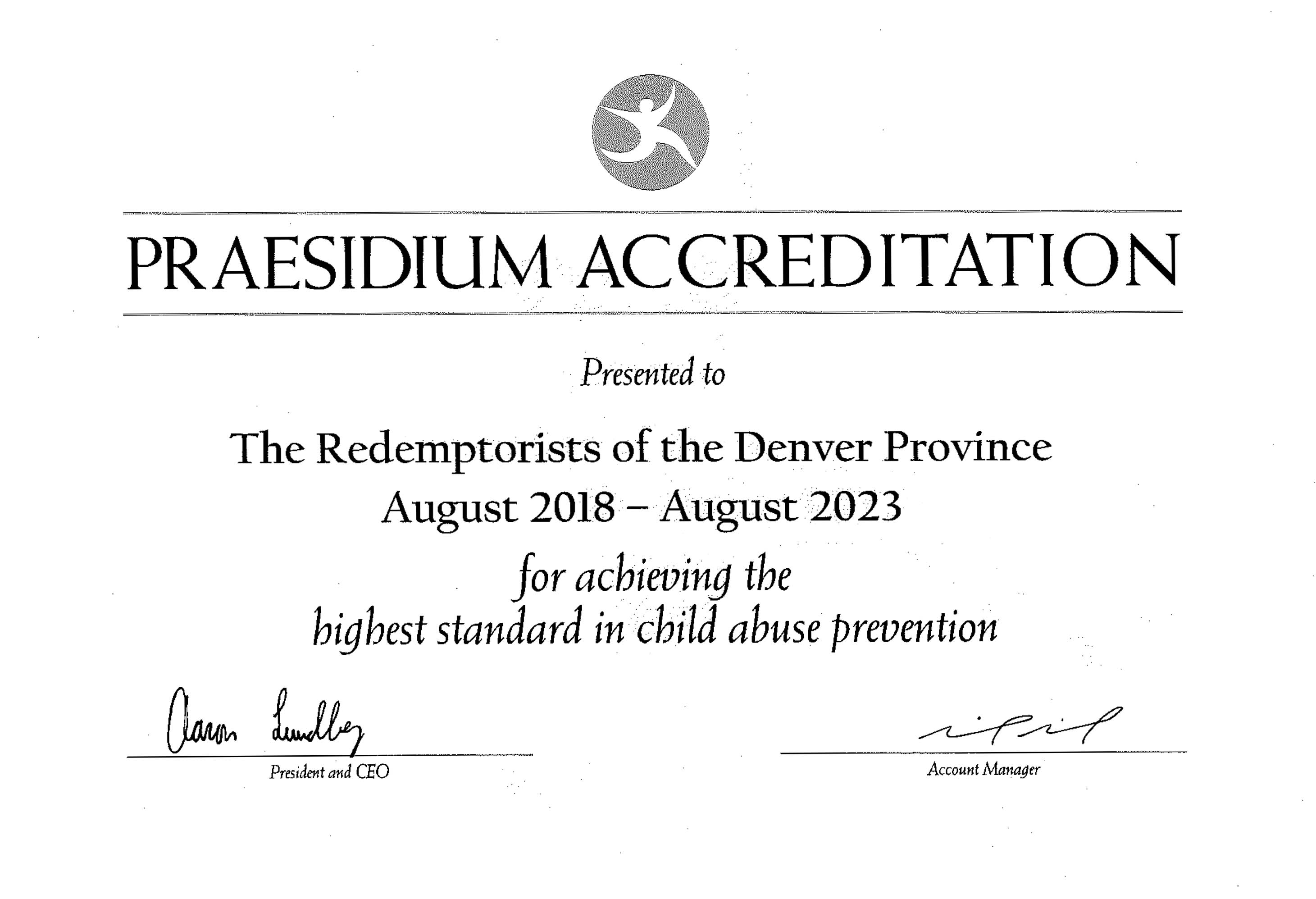 CHICAGO, IL, September 24, 2018 – The Redemptorists of the Denver Province recently received the highest honor in abuse prevention practices: accreditation from Praesidium, Inc., the largest and most comprehensive abuse risk management firm in the country. Members of the Denver Province also just completed three hours of safe environment training, reaffirming their commitment to protect the children and vulnerable adults served at Redemptorist ministry sites.
"The sexual abuse scandal is a cause of great shame and remorse for the Church, most especially for those of us dealing with the pain and anger of the victims of sexual abuse as well  as the faithful Catholics we serve.  Although innocence lost can never be restored, the Redemptorists can and do acknowledge any wrongs committed in the past, deal fairly with victims of abuse, and work diligently to prevent future misconduct of any kind," explained Very Rev. Stephen Rehrauer, C.Ss.R., Provincial Superior of the Denver Province. "Sadly, abuse of all forms – physical, emotional, mental, psychological – is rampant; abusers and victims can be found in every strata of society. Since 2005, the Redemptorists have invested substantial resources into effective training programs, policies and procedures designed to ensure the protection of children and vulnerable adults."
In May, an independent team of Praesidium specialists conducted a comprehensive accreditation audit to verify that the Denver Province met the 25 established Praesidium Standards for Accreditation during the latest accreditation period, 2013-2017.
"Periodic accreditation audits provide full transparency of our efforts to protect children and vulnerable adults, and demonstrate our commitment to maintain safe environments at every ministry site," Father Rehrauer explained.
Praesidium specialists reviewed The Policy of the Denver Province for the Protection of Children & Vulnerable Adults and documentation that verifies that the Denver Province has remained in compliance with the 25 Standards of Accreditation. They discussed admittance criteria with the vocation directors, Redemptorist formation with the formation directors, and the current policy and programs with individual members at select ministry sites, and interviewed members of the Provincial Council and Review Board. Current Praesidium Accreditation will remain in effect for five years (August 2018-August 2023).  Previous audits were successfully completed in 2007, 2010 and 2013.
"We are committed to upholding the Standards of Accreditation, demonstrating our resolve to be a healthy, faith-filled presence in the lives of the families and communities we serve," Father Rehrauer said.